So, my wife is away for 2-ish weeks and I get a full run of the house with a sidenote that it needs to look respectable when she arrives next Saturday.
What does a married guy do when left to his own means for more than two weeks
Eat Food…
Watch an extra dog for a few days (Izzy got to go to work with Liv)
More Holiday Gifts… some wicked strong coffee…
Break the PS3 Rock Band Guitar because I rock THAT much.
My whammy bar went limp :(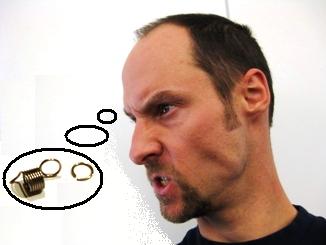 Tiny springs make Mark ANGRY!
Endeavor to fix it.
I chose a random retired (though functional) household electronic which has moving parts in the theory that it could have a similar tiny little spring. I was right on my first guess. Sorry CD/Clock/Radio alarm, you served us well but Rock and Roll needs your parts.
| | |
| --- | --- |
| The Patient. | The Victim… um… donor |