It's been a h*ll of a month, and I mean that in the most literal of terms. After finishing a full draft of my thesis last Sunday morning, I spent Tuesday through Friday frantically revising certain areas, adding in front and back matter, checking my references, and doing last minute touch ups on figures. I printed the whole thing and handed it out to my committee at around 3:30p on Friday afternoon. I then buzzed home, Mark and I tossed everything we could think of into the car, and we set off to drive back to St. Louis for the holiday at about 6pm Friday night.
We got into the hotel in western Kansas late Friday night, and Mark was a little grumpy about all of the blowing snow we had been driving through. While none of it had stuck to the road, the snow reflected off the headlights making visibility very poor, and did that hypnotic dance across the roadway infront of us that makes you want to drive your car right off the road and into a ditch.
Saturday morning we got up before dawn and drove out. I knew that the snow storm was coming, and there was simply nothing to do for it but brace ourselves to drive through on Saturday.
It started with blowing dry snow that wasn't so bad. We slowed down as the road started getting accumulation in central Kansas, and the visibility started to get worse. The wind was howling, and there were moments of true white out that left both Mark and I feeling freaked out every 10 minutes or so. We slowed to 50, 45, 40 mph on the road, still knowing we had hundreds of miles of driving in this snow ahead of us.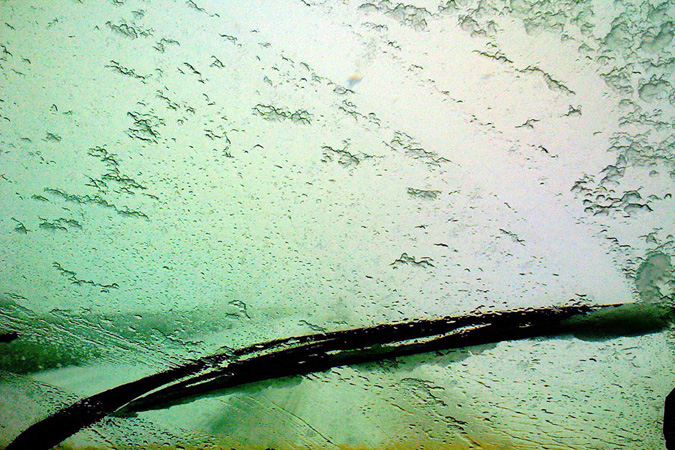 About 60 miles west of Topeka, we came over a hill and eventually were able to see traffic infront of us. Stopped traffic. Mark slammed on the breaks and the anti-locks kicked in. Grinding and growling we slowly, slowly slid to a halt with about 10 ft left between us and the stopped white truck infront of us. The gold SUV behind us was able to swerve from hitting us, but he slid by at a weird 45 degree angle to forward, nearly hit the cement barrier to our right, and kept going off the side of the road.
Traffic began to move slowly, and we found ourselves weaving through a weird landscape of snow covered wrecks on either side of the road. There were 6 to 10 cars in accidents or simply facing the wrong way in ditches to either side of us. I could see into some windshields where a young girl was on her phone crying or an older man was staring wide-eyed through his windshield. Mark and I hoped everybody was ok, but did not feel the conditions were safe enough for us to get out of the car and start checking on people.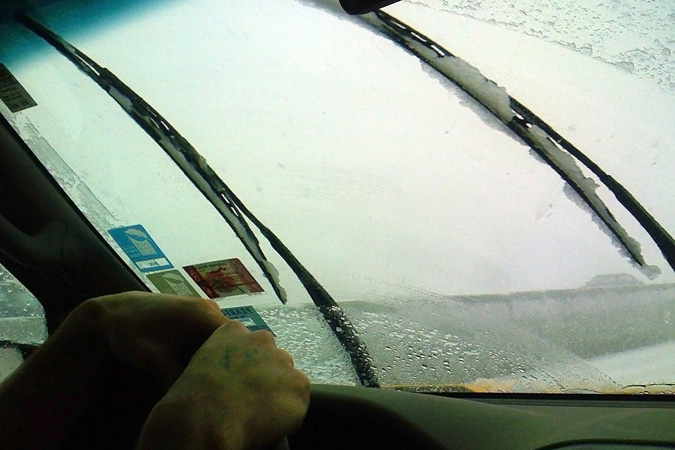 As we left the accidents, driving at between 5 and 15 mph now, we saw a line of six ambulances and 4 or 5 cop cars speeding down the other side of the road. We later learned that the hill side ended up with 30 cars involved in the accident, and resulted in I-70 being shut down soon after we drove through.
That particular story just amazes me. Little facts like:
The storm system was blamed for a 30-vehicle pileup on I-70 near Manhattan that killed one person
Police and other emergency workers were nearly begging people to stay home Saturday. "There is absolutely no reason to be out here unless you are a police officer," Sgt. Jason Gill with the Sedgwick County sheriff's office said at midday. "Roads are impassable at best."
From 8 a.m. to 8 p.m., Sedgwick County dispatchers took about 175 accident calls, said DeAnn Konkel, community liaison program manager for public safety and emergency management for Sedgwick County.
Tow truck companies were backlogged with so many calls that some told customers Saturday they wouldn't be able to get to them until this afternoon. Happy Hooker Towing and Transportation stopped taking calls at 4 p.m. except for emergencies blocking intersections or snowplow routes, said owner Mark Ysidro.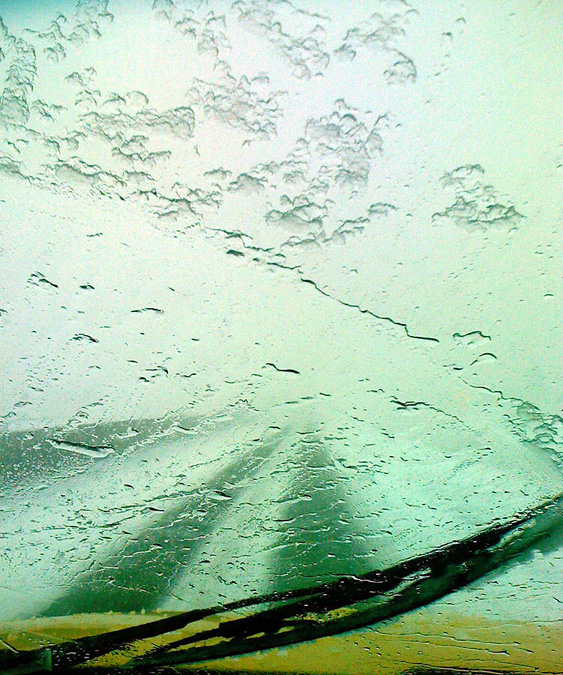 We drove through Topeka at about 25 mph. We had to stop every 15 minutes or so and clear the ice off the windshield wipers. It took us about an hour to make it to the Kansas Tollway, and then another hour of slow driving to Kansas city, where the snow was lighter. Once in Missouri, we stopped for gas, and Mark gave up driving, possibly forever. I took over in an icy sleet that was much easier to navigate, and only had traffic down to about 45 mph on the Interstate.
An hour or so later and we were in full rain. The ice started pealing off of our car in huge chuncks, and we enjoyed watching the car peel itself out of its icy womb. The rest of the drive into St. Louis was in the rain and the dark, but no where near as bad. And, of course, St. Louis saw no snow.
I find it amazing that a snowstorm that is responsible for 11 deaths so far could pass over my parents' house with a few sprinkles of rain and a gust or two of wind.
But we're here, we made it, and the thesis is finished. Time to relax.