In which, Kate discovers that she prefers straight-forward brutish climbs. The photos from the day are in the gallery.
On Saturday, we picked up Doug and Liz, and then met up with Dylan and Ann and Sean at Dyl-Ann's sweet campsite in Upper Blair. The morning was warm and comfortable on the Front Range, but we stepped out of the car into a brisk and chilly wind, with clouds blowing by overhead at an incredible speed. Dylan and Ann acted as our guides that day, and led us through the beautiful quiet woods of their newly adopted neighborhood.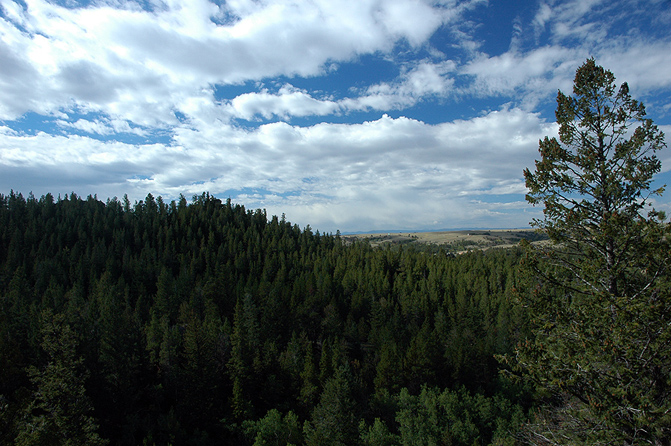 Baobob Tree (5.8) – Mark led up this climb, with the anticipation of a fantastic handcrack at the top of the climb. The flakes at the bottom were interesting, and the traverse below the crack was awkward and a grunt. He did seriously enjoy the handcrack, but discovered he was out of fist-sized cams with about 30ft to go! Mark, the superhero, ran it out, and finished a fantastic lead. I cleaned it, and had a horrible time with that icky traverse. I was angry at that one silly section that I feel tainted an otherwise very nice climb. Doug and Liz then climbed the route on TR as well, and both did a better job on the flakes and traverses than I did. Though, Doug did lay-back the whole top of the crack!
Becker (5.7) – After a nice lunch break in the sun, we hiked as a group to the chilly north face of Long John's Tower. Doug, Liz and Sean took one look at the dark clouds and fat cracks and decided they'd have more fun at the sport crag down the road. We were sad to see them go, but totally understood. Mark led up Becker as well, and had a good time jamming the two parallel cracks. I also really enjoyed this climb, though I fell twice in the middle when my ultra-focused brain didn't grasp at the fact that I needed to move my jams from the crack that was becoming shallow to the one that was becoming good.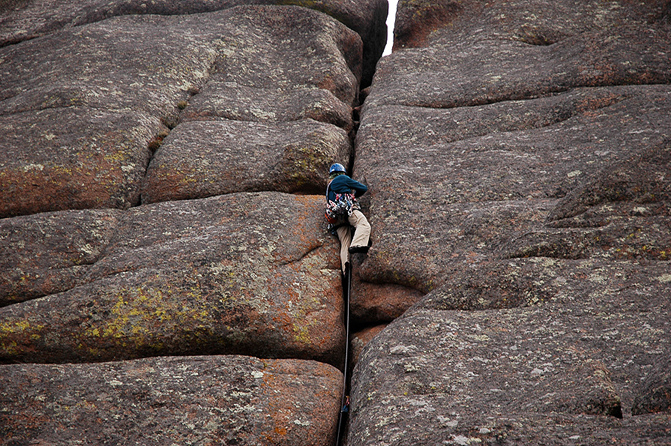 Big House (5.8+) – Dylan led up this one with out a problem at all. He always makes everything look so easy! Ann pulled through the crux with a primal power surge and scream that I wish I had the ability to call on. By the time I wandered over to use their top rope, my hands were feeling raw, and my shoulders and arms were week with fatigue. I really enjoyed the stems and flakes in the bottom half of the climb, but one attempt at the crux moves was all I needed to call it a day. Mark fell once in the crux, but pulled through and finished the climb. He agreed that the section was very difficult, and was very impressed with Dylan's lead.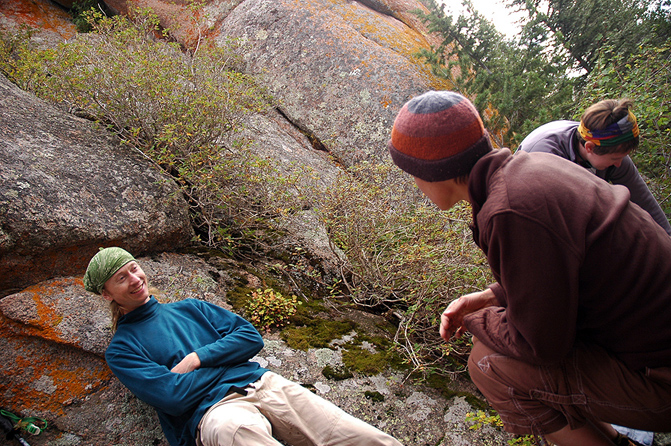 I felt rather bummed and tired on our hike out that afternoon. I'm so used to being able to hike back to camp after a day of climbing like this, hang out and laugh with friends, relax, and then have another day of climbing to look forward to. But Liv was at home waiting for us to let her out, so we had to throw everything in the car and leave Dylan and Ann to enjoy the Blair woods alone that evening.