You might have noticed by now, if you read regularly, but when my family comes into town, we like to put them to work! My parents and little bro, TJ, were in the Fort for a week at the beginning of September. There's photos of the last part of the Epic in the gallery.
Now, I've been complaining about our bed for over a year now. Don't get me wrong, it was a great mattress, and a very nice bed. But I've discovered that I definitely prefer a firm mattress to the ultra-soft pillow top we had been sleeping on. I've been sleeping so lightly lately that any move or jiggle by Mark or the dog would wake me up at night. We needed something firmer, we needed something more stable, and we needed something bigger.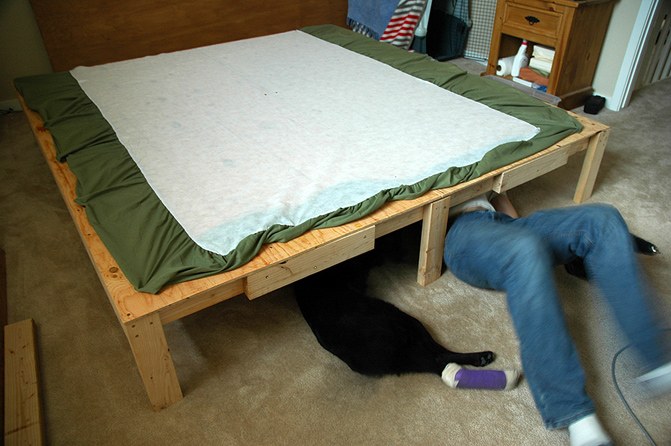 TJ saw the platform beds I was looking at buying online. Mark and I came very close to buying one for the rock-bottom price of $900, and it would sort of match the rest of our bedroom furniture. Thank goodness TJ stepped in.
"Oh no, don't buy that crap!" said he. "I can make that for you with about $200 in wood. Do you have any tools?"
Of course, we didn't have any tools, but that was easily remedied by borrowing from friends. After drawing up the plans, TJ and I headed to the hardware store and managed to buy all of the materials for about $150. TJ then spent the next day and half in our garage measuring, cutting, sawing, screwing and building the bed in the "plans" he had scribbled into his notebook. The highlight of the building was when we all discovered that the king-sized platform was more than 7 feet long on all sides, and there was no way it would fit through any of our the doors in our house.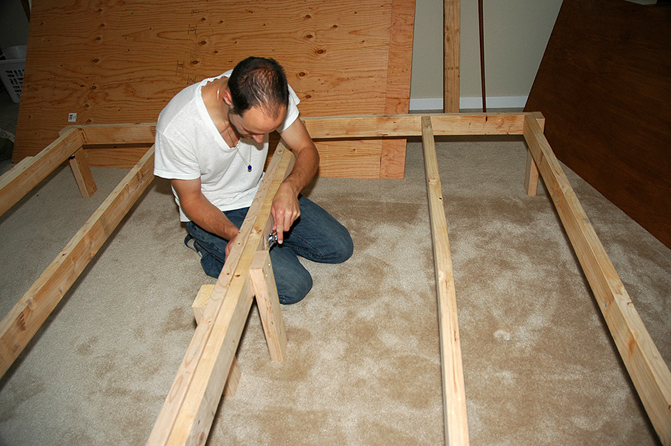 So we cut the bed inhalf, and then rebolted the middle back together after adding a few extra legs for stability. After the family left, Mark and I sanded and stained the outer boards, and were happy to find they perfectly matched the rest of our bedroom furniture this way. We moved the bed into the house a few weekends ago, and then put everything together and slept on the platform with the old queen mattress for a while. About a week later, our king-sized futon mattress and 3 inch memory foam topper had all arrived, so we put together our bed and sent the old mattress home with Doug & Liz.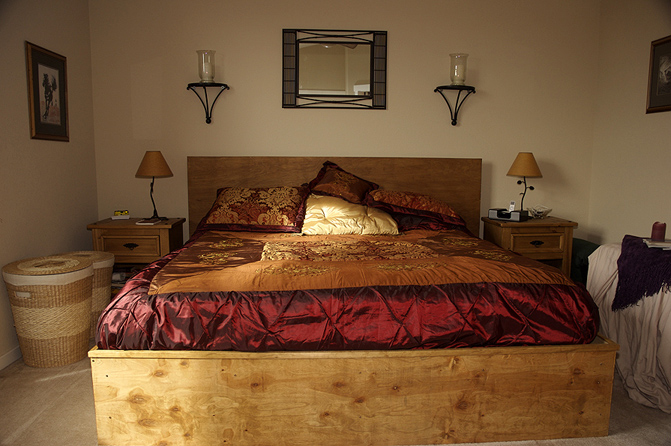 We were supposed to add a shelf to the outside of the bed for a modern platform bed look. But we decided it would be easier and look just as good to put some stained chair railing around the top edge, and I love it that way. We still have work we want to do. We'd like to cut a doggie door in one side so Liv can sleep under the bed (her favorite kind of doggie den). We'd like to put the chair railing around the headboard and the vertical corners. But for now, it's great.
The bed is fantastic. It's everything I could have ever wanted. It matches the rest of the furniture perfectly. It's wonderfully comfortable. I can sleep soundly without even noticing Mark or the dog in the bed with me! Thank you TJ!