So yesterday was called "Super Tuesday" by the MSM outlets due to the large number of states which held primaries that day. It was also called Mardi Gras which means "Fat Tuesday" by French Catholics due to the day after being Ash Wednesday and the beginning of Lent. And I'm sure, in many parts of the Southeastern US it will be called by a different name, due to the largest outbreak of tornadoes in February in decades.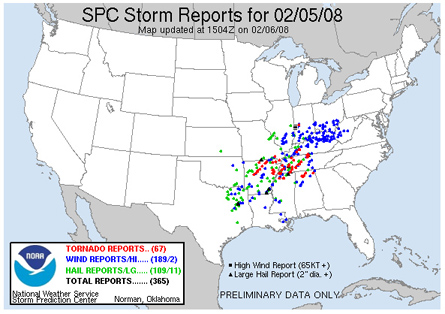 Update: Click Here to view the storm reports and Here for a good overview story from Bloomberg.
Conditions were ripe for heavy weather last night, as temperatures in the south-east climbed into the 80s during the day, and dewpoints followed upwards, almost into the 70s. A strong winter cyclone moved off the rockies and deepened as it blew across the plains. By the time the strong circulation hit the warm moist air of the southeast, deadly weather was almost inevitable.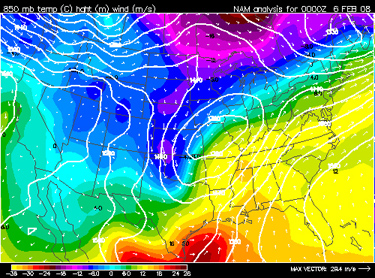 There are reports now coming in of the warnings given to the areas hardest hit. The death toll would have been much higher, no doubt, without the diligent work of meteorologists throughout the country, and the warning networks we have installed. It was unfortunate that the bad weather hit on such a critical day, when people were out voting and caucusing, and perhaps not able to seek shelter as quickly as they needed to. It is also a little weird, but not unprecedented, to see tornadoes this early in the year. Severe weather like this comes from high temperature gradients, and the more warmer surface temperatures clash with cold polar air, the more we'll see storm outbreaks like these.