Happy March Everybody!! It was a warm day before a cold front blasted through, and Mark and I decided to get back out on the rock. I think our recent climbing adventures are evidence that spring is not too far around the corner, and the wild weather this weekend agreed. We decided to use my apartment in Colorado Springs as a base camp for the weekend, so on Saturday we headed out Highway 24 to explore the southern part of the South Platte. Photos from the day are up in my gallery!
Mark and I chose Turkey Rocks as our target for the day, because of their perfect southern exposure and nice moderate cracks. As expected, the forest service road out to the rocks was slushy snow with some deep tire tracks, but the yellow car made it through to the trailhead just fine, and we had a fun time buzzing through the woods in 4wd. The hike up the hill behind the rocks, in a foot of snow, with no boots or gaiters, was less fun. But once we popped over the top of the ridge, we were on the south side of the hill and the sun had baked the snow and moisture off of everything. It felt like a perfect spring day.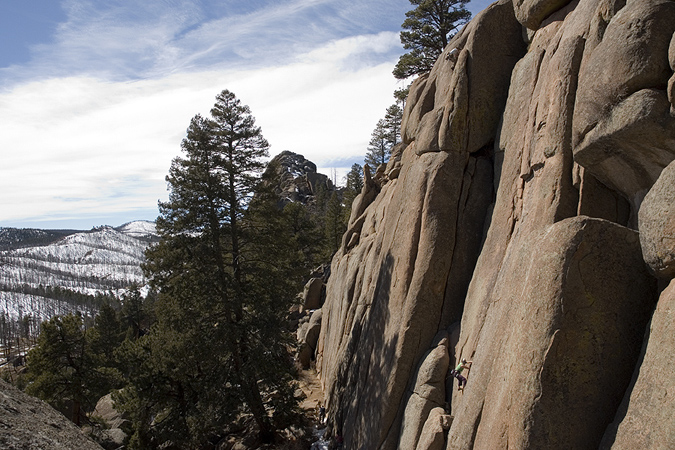 I have to admit, I found the names of some of these climbs offensive. I'm not going to add them to my site, but if you're really curious, you can check them out on MP.com by clicking on the link.
L H J (5.7/8) – We started the morning out on what our book (the big Rock Climbing Colorado guide) called a 5.7. Mark put up a good lead on this long, beautiful hand crack in a left facing corner. Though, he used a lot of gear, and it took him a while to figure out the crux move through the little roof at the top. I followed, and the crack felt really good. I actually hung out on the slab at the top for a while and took pictures of climbers around me until Mark yelled down that he was cold and I should get a move on. I did fall while trying to get over the roof, but I figured out the sequence quickly after that and the rest of the climb was a breeze.
Once I topped out though, the view before me was stunning. Mark had left all long slings, all cordelettes and all big cams on the ground or in the crack below him. He had built an anchor out of wrapping the rope around a few big boulders and then tied himself into this giant web of climbing rope. He had probably used 20 meters of the rope just for his anchor! Creative, yes. Funny to look at, definitely. Watching Mark swear at himself while I walked off and he had to clean up his mess, priceless.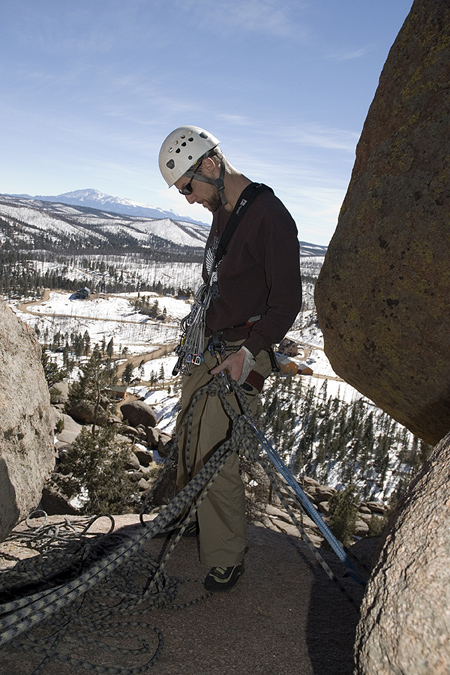 H J A C (5.7) – I had wanted to lead this one, but as we got down from our first climb, the wind was picking up and it felt like clouds were moving in. Mark wanted to move quickly, so he buzzed up this climb and I followed suit. It was much easier than the first, and I know that I am more than capable of leading a climb like that one. I hope I get a chance to lead a bit sometime soon.
R M (5.8) – Ok, so it's not an offensive name, but I've got a precedent now. We walked down from our second climb in a warm breeze and a late afternoon sun. We decided the weather was turning out fine, and we should push ourselves on what we thought was the first 5.8 of the day. (Looks like our first climb may have actually fit that description better). RM was wide at the bottom, and Mark and I both had a little bit of trouble in the dark, wet, slippery crack about 20 ft off the ground. Mark climbed through it, and I blew out a perfect heal-toe (it was wet!) and lost all of the skin on this inside of my left ankle. Again. It must be climbing season! I've got band-aides on my ankles!
The climb gets thin, and then arches to the left in a long, beautiful, nearly vertical hand crack. Then you scramble over a steep and featureless slab section to a roof. From there, the climb hooks left, and I found Mark sitting at the top having tied himself to a tree. And the quick and dirty (but quite effective) anchors continue! We both worked hard on that last climb, and both limped away happy with the day. I had worked so hard my shoulders, back and arms were already sore, and my legs were very unhappy after the 20 minute hike back to the car. But the sun stayed out for us all day, and we got to loose some skin to some great cracks. What more could you ask for?