Mark and I finished our short work week excited about getting out into the mountains for a day. When we read reports of a wolf sighting in the Rocky Mountain National Park, we knew where we had to go. Dylan also excitedly joined our hunt. The photos from the day are up in the gallery!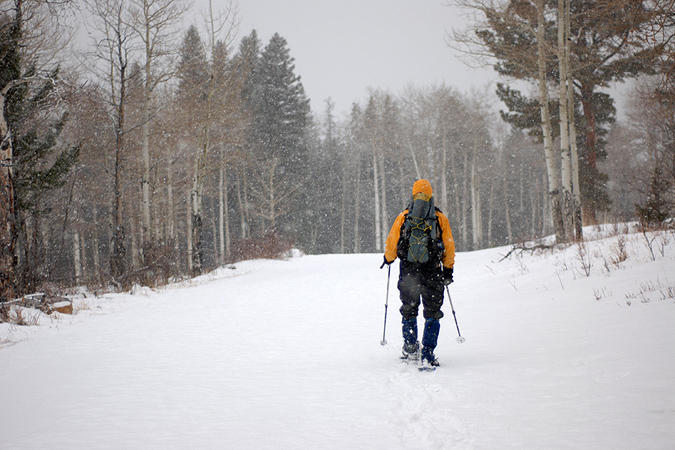 We didn't know exactly where the wolf had been seen, but in order to maximize our chances, we decided to hike in the less popular northern part of the park. Due to the snow from the most recent storm, avalanche hazards were pretty high, so we opted to hike Fall River Road, which stays below treeline and away from avalanche prone areas. There is a map and elevation profile on Dylan's blog post.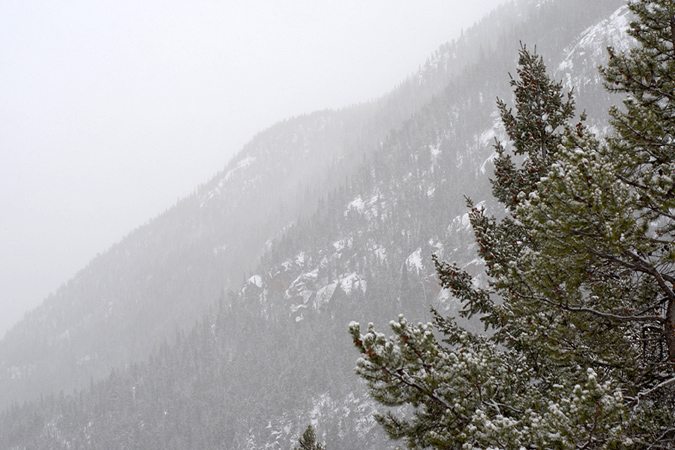 The lower third of our hike was well protected, and even though the snow was coming down heavily, we didn't feel much wind until about 45 minutes into the walk. We rounded a corner and just got hit with a blast of wind and spindrift. Temperatures hovered just under 30F, so the hike was actually relatively warm compared to many that we've done. We walked through the whirling wind and snow, enjoying the quiet afternoon and listening intently for wolf-like noises.
We even had the trail mostly to ourselves. On our way up, we saw only one other group of hikers. We decided to turn around at the 3.5 mile mark, which gave Mark and I a good indication of the distance we'll have to cover to climb Mt. Audobon or Quandry Peak this spring. On the way down, we were treated to several interesting sights. At one point, the wind had blown all of the snow off the road, leaving only our footprints of packed snow sticking up off the frozen gravel. We also passed a huge group of highschool or college aged kids just starting out as we were nearly finished. They all looked extremely cold in their hooded sweatshirts and tennis shoes.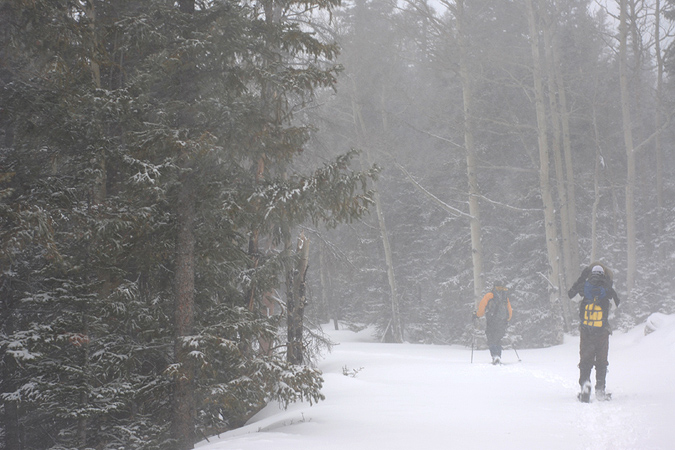 But, in the end, we did not see any wolves, hear any wolf noises or see any paw prints in the snow. But we've got lots of time to keep looking!