On Saturday, Mark and I met Doug, Liz, Mike and Adam in Fort Collins and headed south for a ski day at Eldora Ski Area. We met Kevin in Boulder, but missed Weeks in the morning due to some missing emails. I took a camera with me, but I didn't take any pictures, unfortunately. Here is a map of the trails in the resort, and little labels that show where we all skied during the day.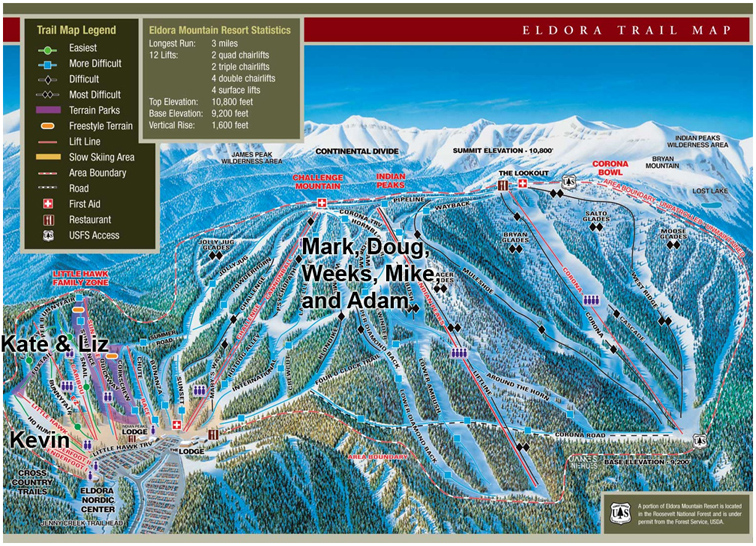 Kevin took a full day ski lesson for his first day out. He had a great time. Liz helped me remember all the basics and gave me great encouragement during the day. We skied every single green run, and even went through "Fun Gulley": a tiny little terrain park though the trees between two green runs. It was a great day for both of us, we both spent time working on our turns and building up confidence and feeling more comfortable on skis.
Mark started the morning with the "Elite Performance Package" for the first time ever. They gave him racing skis that were stiff, heavy, and huge, and he hated them after his first run. After lunch, he turned them in for a pair that turned a little better and had a great time exploring the mountain with Weeks. They covered a lot of terrain over the course of the day.
At the end of the day, the others headed home and Mark, Kev, Weeks and I hit Boulder for dinner. It was really nice to catch up with Weeks, especially since he's heading to the South Pole to work as a facilities engineer at the research station down there. It's going to be a tough eight months, with no daylight and temperatures around -100F, but it will be the experience of a lifetime, and Weeks really thrives in extreme environments.
In the end, it was a great day. Kevin learned to ski, I carved up all green runs (and didn't cry at the end of the day!), we got to see Weeks before he leaves, and Mark didn't hurt himself. What more could you ask for?