A few hours of tinkering last night and the website is in pretty good shape! I discovered that the new wordpress theme I love so much has heavy, heavy use of stylesheets. I know these are useful things, and good for abstracting your code, but I think this is just over the top: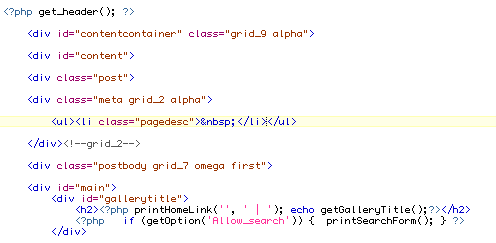 Nobody should have to enclose their photo gallery code in five different "div" levels, and behind one dummy "div." Yep, that list containing only a space is entirely necessary to make everything work. Lovely.
I still have some work to do, like adding in a link to the map on posts with geotags, and putting the "nights outside" graphs back in. But all in all, it took a lot less time to make it work than I thought it would, and I like it. And it's fun to redecorate every now and then!
Also, Mark wanted me to post the story of his encounter with the Mangoes and the Monkey Peeler. (Imagine the sound of guitar floating out of the website and Bob Dylan singing "Mangoes and the Monkey Peeler were hard up for cash. They stayed up all night selling cocaine and hash…")
On our hike out from North Table Mountain last weekend, the two guys walking infront of me were discussing the most wonderful sounding foods they were preparing for their superbowl parties. One guy was exceptionally creative and mentioned his world-famous mango chutney. Yuuuum. So, Mark and I bought some mangoes, a pinapple, some peppers and set about making a chutney. While peeling the mangoes with his new, awesome, monkey peeler (a Christmas present from my very cool brothers), the mango got away from Mark and he took the top off of his finger nail.
I finished up the chutney, which turned out great, and we served it in big piles over spicy grilled fish. Mark has kept his finger carefully wrapped and covered in anti-biotic cream, complaining about how this terrible injury is going to ruin our early climbing season.
I guess I'll go to Florida and get myself some sun
There ain't no more opportunity here, everything's been done
Sometime I think of Mangoes, sometimes the fruit dealer
Sometime I don't think about nothing but the Monkey Peeler