We woke up on Monday morning exhausted, beat up and covered in sand. The wind had blown all night long, and the tents had never really stopped flapping like huge manic birds. I actually woke up 2 or 3 times in the night because the side of the tent had been blown so low over the ground that it hit me in the face. Mark found one of our stakes was in the ground backwards and that side of the tent had pulled off the ground in the night.
Other than the tent hitting me in the face, the wind works well for me as white noise and I slept pretty well. Mark used our one set of earplugs and slept pretty well himself. Bruce, however, didn't get much sleep at all. His new tent was a really nice, new REI Half-dome that had worked perfectly for him all weekend. However, after the wind and blowing sand over the whole night Sunday night, Bruce awoke to everything in his tent covered in about half an inch of yellow dust. The screen mesh that covers the top half of his tent had acted as sieve, allowing only the finest dust to enter and settle around his tent. He stumbled out of his tent in the morning and exclaimed "I have gravel in my hair!"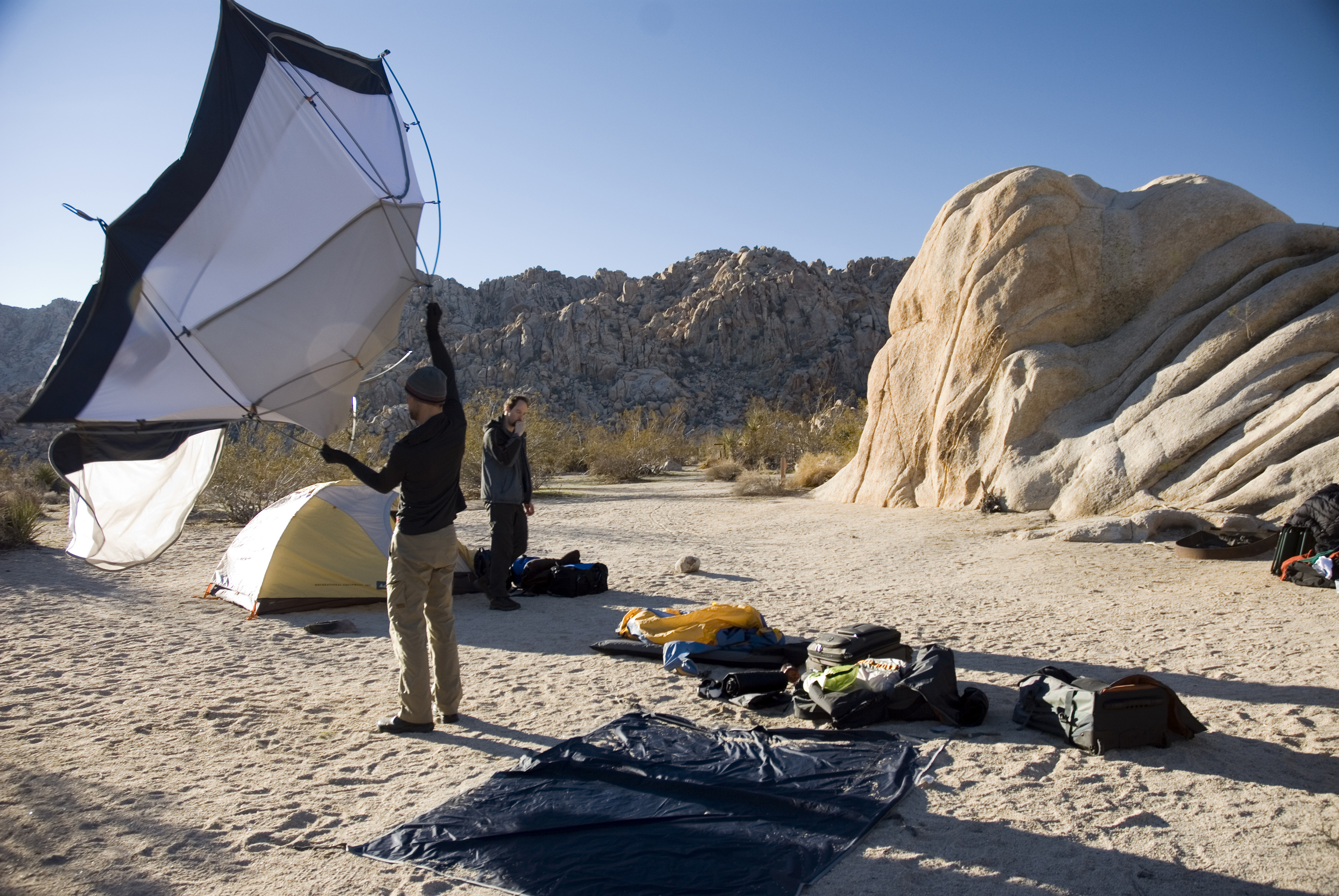 After seeing Bruce's tent and yellow face, Mark and I were thankful our tent was in four-season mode and we had totally solid walls. We learned that night that the solid walls are not just good for keeping out bitter cold winds and snow, but also very good at keeping out the huge clouds of sand and dust that had no doubt been buffeting us all night.
Mark and I had a flight out of LAX at 4:30p that afternoon, so we didn't really have much time for climbing in the morning. Besides, the wind was still gusting and bitter cold. We packed everything up and then headed to town looking for showers (we thought the other people on the plane would appreciate us being a little cleaner). What we found was a really pleasant surprise.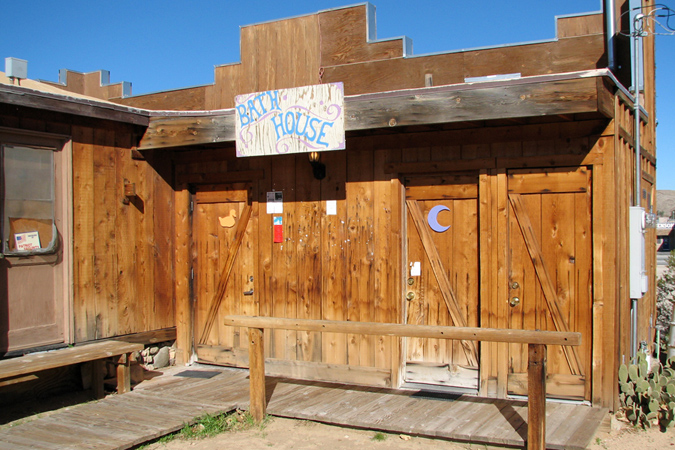 We had been directed from the guys at the climbing shop in Joshua Tree to showers at Coyote Corner. What a great little shop! She had some climbing gear, a lot of T-shirts, organic locally made soap, various new age crystals and juices, scarves, purses and all kinds of local art. And the showers were $3 per token, which buys you a 7 minute shower out back. Mark and I took the bigger shower room and were happy to see the place very clean and full of amenities. Mirrors, a nice big sink, potty and a big hot shower. We didn't pack towels or shower shoes, but the hot water felt great, and the shower was actually clean. If you are ever in the area, I highly recommend the showers at Coyote Corner.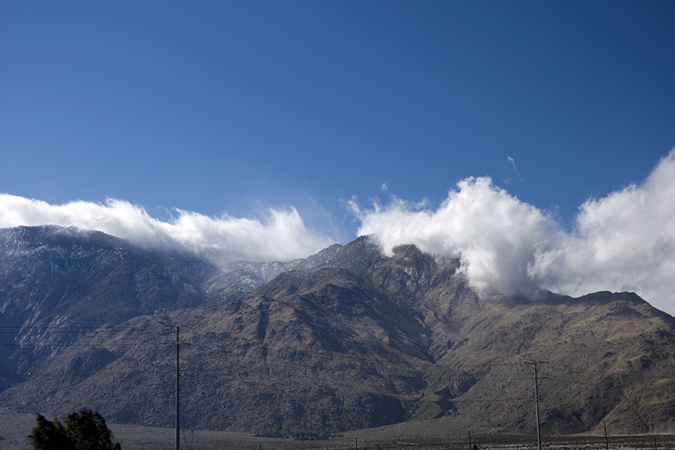 After getting cleaned up, and then buying another guidebook with a better description of route descents, we headed back to LA. The wind was howling the whole way and weather was moving in. Our flight was delayed about 45 minutes because the flight the pilots were on was delayed as well. But we eventually made it home. Happy, scraped, bruised, and I'm still finding sand in our house. Where does it all come from? :)