I suppose after two great days of climbing in the desert, it was time for an epic. Thanks to Bruce, there are more photos from the weekend up in the gallery, but I actually didn't end up taking many pictures on this day. After a lot of wandering around the park in the morning, we ended up back at the Hidden Valley Campground, where we spied a pair of climbers working their way up what looked like a ridiculously easy and really fun multi-pitch climb on the west face of the Blob.
Beginner's Two (5.2 or 5.4R or 5.7R) –
This was Bruce's first multi-pitch, so we explained the process to him, and decided to break up the climb into three short pitches, so we could all climb on the one rope we had with us. The first pitch was super easy, and Mark hiked up with only placing one or two pieces of pro. He set a nice little belay in an alcove which is complained about a bit on the MP.com page, evidently. Bruce came up, and I cleaned the pitch. Once I got up there, Mark and I had some discussion as to how proceed from there. The crack ahead of us looked really hard. The face to the left looked kind of easy, but it would be a long time without pro. The crack to our right looked like it had good pro and decent holds. Mark went that way.
It turned out to be a really hard, short section of climbing. Mark was rather freaking out as he had no pro until he was through the whole thing. He climbed the rest of the pitch without any problem, and called it the "foot cruncher" pitch because he ended up walking up a trough that was about 4in wide for about 50ft. Bruce did a great job seconding, he stemmed through the creepy thin crack and pulled himself up on the bad holds. He even stemmed through the foot cruncher section! I cleaned the pitch, and found that crux to be hard, and I was very impressed at how well both Mark and Bruce had climbed it.
The final pitch was straight-forward and great. It sounds infamous on the MP.com comments, but we all had a great time with it. Another wide crack, this one was not too hard, not too easy. Mark ended up walking our only 3.5 cam that we brought with us up with him as he climbed, eventually using it as his anchor on top of the rock. Bruce topped out after having a great time on the climb, and immediately started taking pictures and scrambling around the top of this 200ft tall rock. I passed Mark after cleaning the pitch, and then belayed him up from his exposed seat after he cleaned the anchor.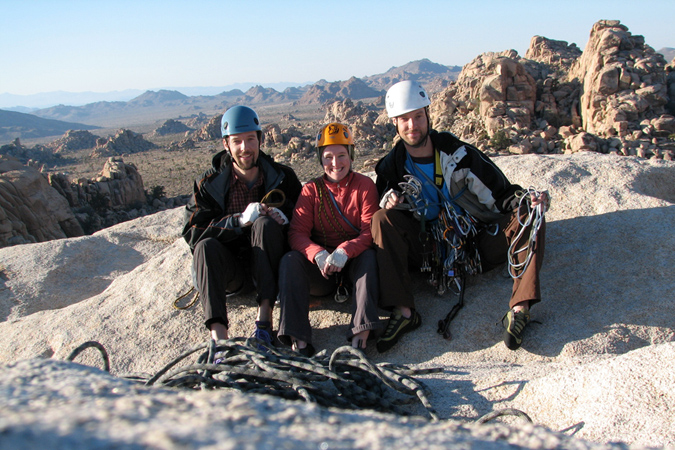 Beginner's Two Descent
This was where the real excitement came in. We scrambled down to the right of the route on easy slabs. Bruce found a creepy looking anchor made of old slings and bolts, that looked like it was well more than half a rope off the ground. We kept scrambling down. Eventually we came to a big ledge and weren't sure where to go from there. Suddenly a girl appeared over the edge with a few cams and a nice blue rope happy after finishing her lead. We all said "Hi!" and she set an anchor to bring up her second. I guess they were climbing Buissonier (5.7). She turned to us and asked "So, do you guys know how to get off the rock?" and that's when we were suddenly worried.
Mark and I were like "So, we can't keep going that way?" And she said it was a 5.7 route that we probably didn't want to down climb. By this time we had a few people staring up at us from the campground about 100ft below. Mark and I were pretty sure we could toss a sling or rope around one of the big rocks and rap off, but we didn't see any other slings or evidence of ropes in the area. Weird. As the other girl's second finished their climb and they started coiling their rope, somebody yelled up from below "Hey, do you know how to get down??" We yelled down "Not really!" and they yelled up "We'll send somebody up to show you!"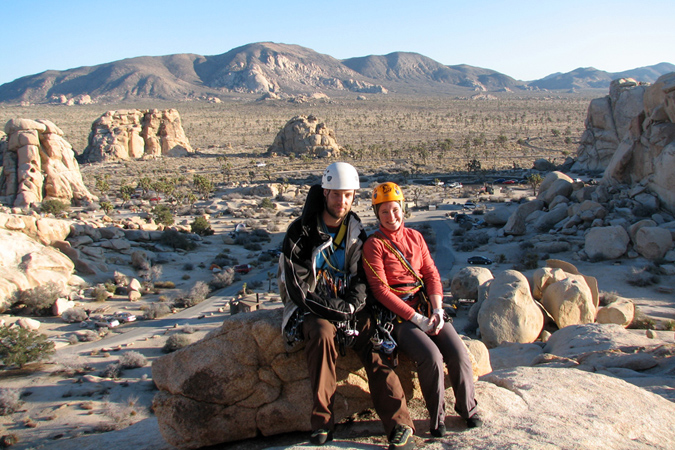 We all hung out a little longer. The sun was getting low at this point, and the wind was starting to pick up a little bit. Not more than 5 minutes after the first couple finished their 5.7 a guy came jogging up that climb. He got near the belay spot and and yelled down "Hey tom, give me a lot of slack! Or, just, OFF-BELAY"
He headed off to our right (back to the west side of the rock) and hurriedly showed the other pair the "walk-off" which turned out to be our choice of a deep, dark 25ft tall chimney or traversing and slowly down climbing a 5.5 slab that's 50ft off the ground. As the second from the previous pair stood on the slab for almost 10 minutes, unable to commit to the next movement and beginning to shake, we decided to go for the chimney.
Mark set a quick and bomber anchor and got ready to belay me down. I would climb down first and give him the beta he would need to solo it last. I tied in and started down. The top of the crack was just about perfect butt-width, and I wiggled my way down to a set of huge holds and then the slabby bottom section without much problem. Bruce had a little more trouble and Mark ended up lowering him. Mark cleaned the anchor and tossed down the rope. He then wiggled his own way down the squeeze chimney with no problem. It just looked bad from on top. Once you're in it, it was way easier than some of the down-climb chimney's we've done in 'Voo.
I also talked to the guy who came up for us as he prepared to take another lap and show the walk-off to another group who had just gotten to the "confusion ledge" as we reached the ground. He said his name was Mike. He asked where we were from, and when I said Northern Colorado and that we usually climbed in Vedauwoo, he gave me a shocked look and said "Wow. I hear that if you can climb in Vedauwoo, you can climb anywhere." I said "Really?" and then he was off free-soloing the 5.7 to collect the next group of out-of-towners.
In the end
The sun set as we packed up our gear from the day. I was really glad we weren't stuck on top of that rock after dark. Finding the chimney down climb would have been impossible without help or being able to see anything. By the time we got back to the campground, the wind was howling. We were lucky that there was a rock between us and the wind blasting straight out of the south, but it still howled around and threatened to blow our fire out of the ring and into the brush of the desert. We ate canned food quickly and were tucked into our flapping tents by 7:30p, again.