After the meeting at UCLA, Bruce drove up from San Diego and picked me up on the campus Thursday evening. We did grocery shopping for the long weekend, which was a bit of an experience for Bruce as we were going to be camping without a cooler. Bruce had not looked so hard at food in cans in a long time! After a nice dinner in Westwood Village, we headed out to the airport to pick up Mark, and then hit the highway and drove out to Joshua Tree. We made it to the campsite at about 1am, put up our tents and hit the sack, all excited about what our first day of climbing would hold.
I've got photos from the weekend up in the gallery.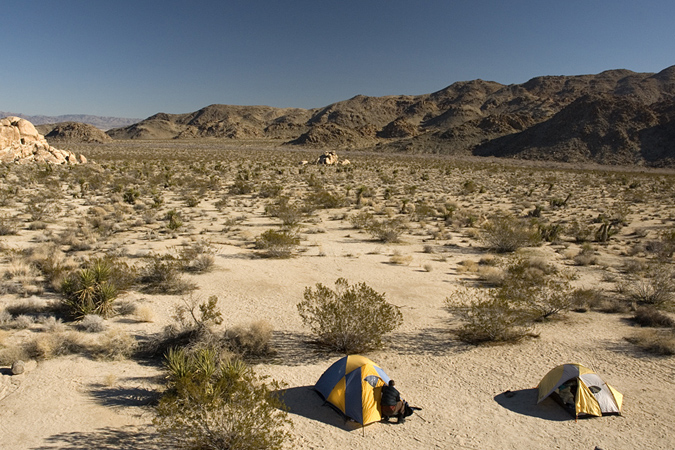 We camped in the Indian Cove campground for the weekend, which is one of the lower altitude campgrounds in the national park, and we hoped a little warmer for it. To keep everything simple the first day, we took our time getting up, making our breakfast and packing up for climbing. We then wandered past about 5 campsites or 100ft east to Short Wall and started our climbing day.
Double Crack (5.3) – Mark started out the day with a great lead of this nice little route. Bruce and I followed and had a lot of fun. The anchor at the top used our three biggest pieces we brought, two #3s, and the #3.5.
Tight Shoes (5.7R) – I moved the TR to the left after my climb up the previous route, and then we all took a ride on this little slab climb. It was tricky, and I lost my footing a couple of times, but once we all got used to the friction on the slab, the route was pretty straight forward.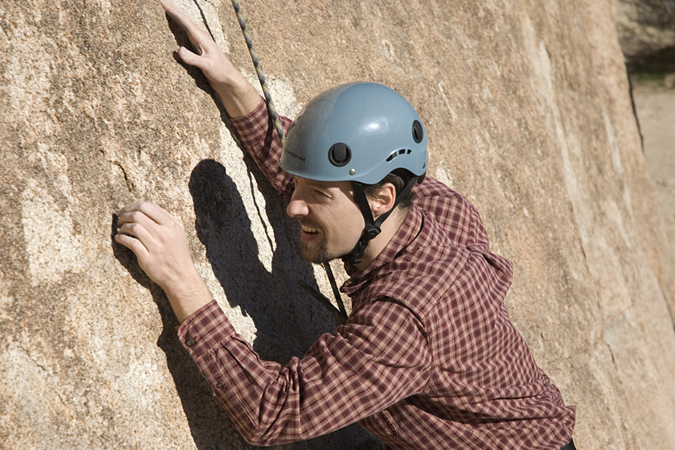 Linda's Crack (5.2/4) – Mark moved the TR to the left once again so we could take a ride on the fat crack on the wall. Linda's Crack turned out to be a bit wide for an OW, with some nice face features that kept it from getting too hard. I wouldn't want to lead it, but we all had a great time climbing it.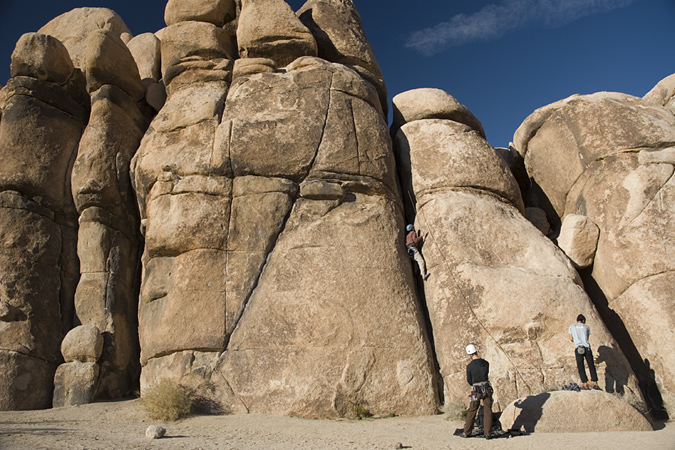 SOB (5.6) – As the sun hovered just above the horizon, we decided to head up one more crack. Mark lead up this one with no problem at all, and Bruce and I followed him happily. It was nice way to finish the day, by standing on top of rock and watching the sunset.
We cleaned the climb and hurried down because the temperature dropped rapidly after we lost our sun. We packed up and headed back to camp, where we had a great dinner of canned food, played with some long camera exposures and then tucked in to bed at about 7p. Well, what else are you going to do at night, in the cold, cold desert?