More pictures from they day are up in the gallery!
Well, my forecast for the weekend officially bombed. While Mark and I were kind of looking forward to a quiet, cold, wet, fall day at home, Dylan and Ann called us from Vedauwoo on Saturday morning with the news that the weather in Wyoming was perfect for climbing. I checked the updated models and saw a good chance that we wouldn't see rain until that night, so we threw the already packed packs in the car and took off to the north.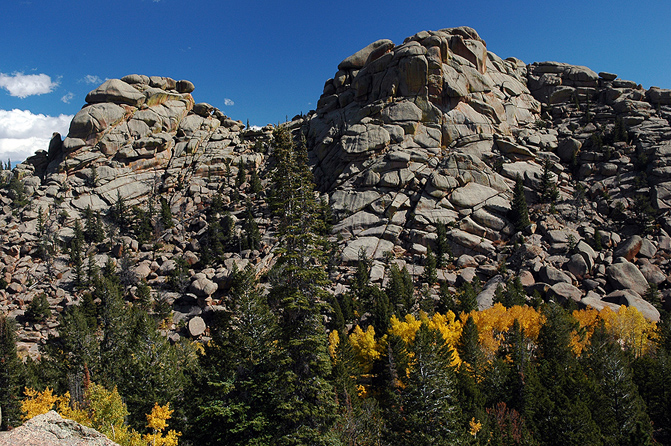 We got there and Dylan and Ann were already starting up a sunny day climb of Ed's Crack. Ann has been working so hard on her trad leading, and this climb was the culmination of a long, hard, fun summer for her. It was a beautiful lead up a beautiful climb. Dylan seemed really happy to be the belay slave on a pretty day like that also.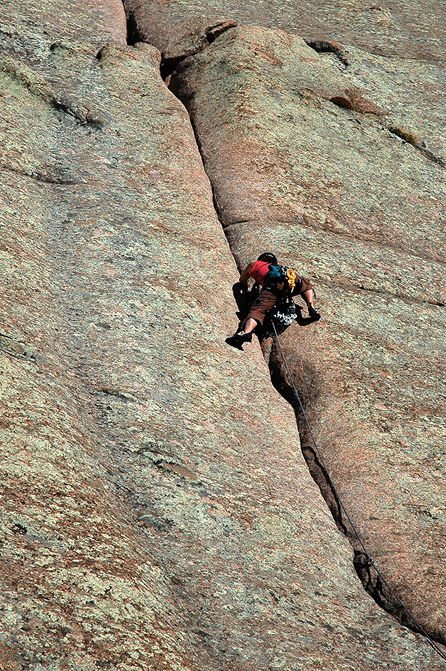 After cheering Ann up the first pitch of their climb, Mark and I wandered over to Fall Wall, a sunny slab that we've barely ever climbed on, despite it's perfect rock and popular moderate climbs. There were a couple of other climbers there when we arrived and Val, Star, Jen and Sarah helped us with our packs and spent the afternoon climbing on the sunny rock with us.
Mark hopped first on a lead of Drop Zone which our book called a 5.9, but MP.com calls 5.10a. Mark spent a lot of time trying to convince me to lead this climb, but I wouldn't hear it. Mark's lead was very nice, but full of a fair bit of whining, complaining, and, in the end, admission that it was a tough technical lead that I would not have enjoyed right now. I did enjoy following on TR, though, and the thin slabby moves were loads of fun. And dancing across the delicate and airy traverse was a beautiful little bit of climbing. Afterwards, we both ran up and down Cold Finger (5.7) on TR from the same anchor.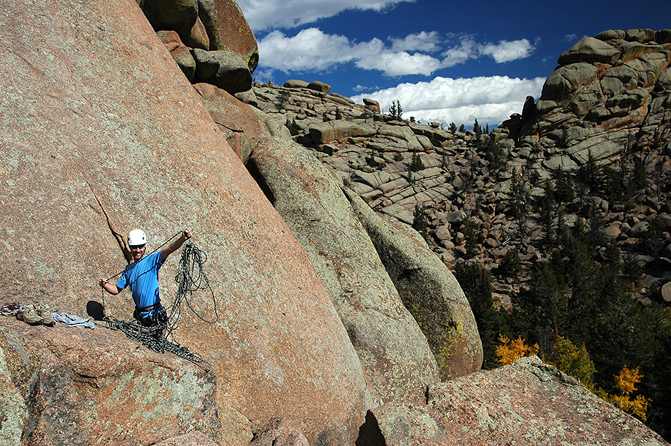 The third climb of the day was my lead of EO Lieback (5.5). This a trad climb I've been wanting to lead for years, and I finally got my redpoint on a solid lead that day. It was a bit over protected, however. I hit the vertical section of the climb and didn't like the stoppers I kept plugging in, and ended up with about 4 extra pieces of gear in that section. Oh well. After finishing the climb, I went back and lead it on my own gear (pink point) just to spend a little more time on the sharp end. Mark followed and cleaned the gear, assuring me that all of the pieces were actually pretty good.
After that, we decided to run up and down EO Friction (5.5) because it was quick and easy on this top rope. As I was climbing, Dylan and Ann showed up happy from their climb, and exhilarated with Ann's lead. I was also proud of my little leads, so we were happy all around as we packed up and headed home for the day.