There's a few nice shots from the day in the gallery.
After the snowy hike to Vedauwoo, it seemed the Wyoming trad climbing season is now officially over. But on Saturday, we had a nice sunny, warm day, so Mark and I decided to head up the Poudre canyon for some sport climbing. We haven't climbed in this area in almost a year, but we were both excited about the lightweight packs (no rack) and the simplicity of a quick trip out to climb.
Our original goal for the day was the Crystal Wall, where we've never been before. Good directions from Doug helped us find the fixed rope for the walk up. But we were standing in the road, looking up at the shade-covered imposing face of the Crystal wall, or the sunny familiar climbs at the Palace and we decided to change plans for the day.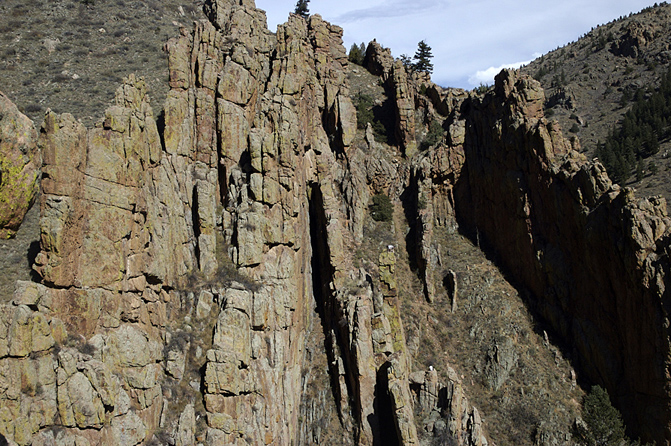 I've been working on my leading, so the first climb of the day was the easiest one we knew of at the Palace.
Escalera (5.8) – Unfortunately, my lead here did not go as well as planned. I got three bolts up and completely stuck. It was a different situation for me. Usually, I get into these spots and panic until Mark lets me lower, but this time I climbed up and down about 15 times and just couldn't figure out how to get to that 4th bolt. Finally, I think Mark got frustrated enough to let me come down, and he finished the climb with plenty of nice comments about how that middle section was really tough. I climbed and cleaned it on toprope, and fell a few times. I guess the trick is to climb above that bolt to the left, and then hand traverse across a positive ledge with icky feet to the bolt, and then continue the traverse to the chimney on the right. I think I'd like to go back someday soon and pink point this one with an extended sling to protect this hard part.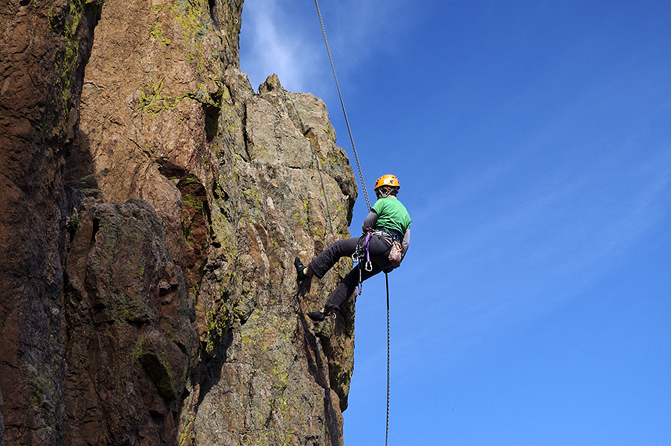 After my two strong attempts at the 5.8, my fingers were sore and I was feeling like sport climbing was a different beast than we were used to. Mark agreed to lead up a climb I've been wanting to do since we first set foot in the Palace for our second route of the day.
Rapunzel, Rapunzel (5.10) – This climb was really fun. It was very well protected, and I think if we go back, I'd have a much better chance at leading this one all of the way through than Escalera. There were great big holds at the bottom, beautiful thin face climbing in the middle, and a tricky overhanging crack at the top. What more could you ask for? We both had a great time with this one.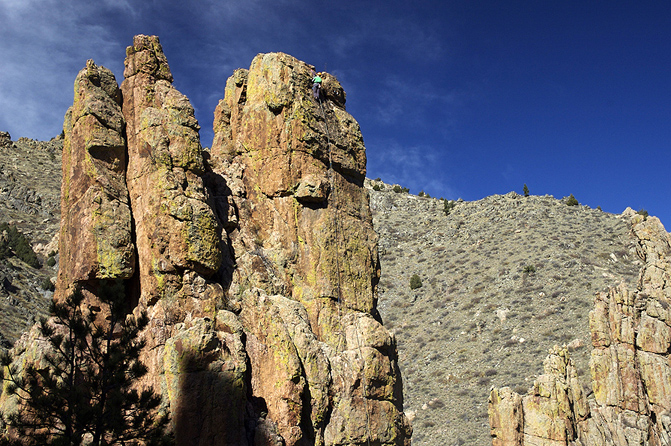 By 2p, we were feeling pumped and ready to head home. Besides, Mark wanted to play tennis at 4p, so we needed to get packed up. Clouds were moving in rapidly, and what had been a blustery warm wind all morning was turning into a strong chilly breeze.
On the walk back across the river, Mark lost his balance and nearly did a full face-plant into the water. I made a similar mistep after giving up and wading. I tripped over an underwater rock and went full front body into the river. We both came out looking like we'd been swimming, but at least the water wasn't too cold… yet.