When I was little, there was an amazing place I loved to visit. A giant old mansion, full of hidden passages, a three-story spiral slide and crazy science experiments! We knew it simply as "The Magic House." And it was one of the first and still one of the best hands-on science museums I have ever been to.
This awesome place is still around, only it's been expanded and grown for the last 25 years, and is now known as The Magic House – The St. Louis Children's Museum. We managed to fly out and visit the grandparents in St Louis for a few days after Christmas, and now that G is old enough to run around, I thought he might enjoy a trip to the Magic House.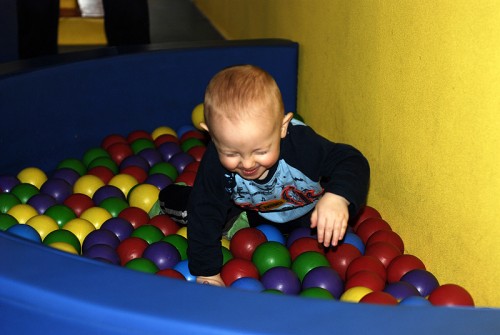 And he did!
G is still pretty young for a lot of the exhibits and activities at the Magic House. But they have added a special small area for toddlers, so we spent an hour exploring the little ball pits, the tiny habitrail-like play set, the little kitchen rooms, and the big mirrors, knobs, buttons and blinking lights in the Baby Zone.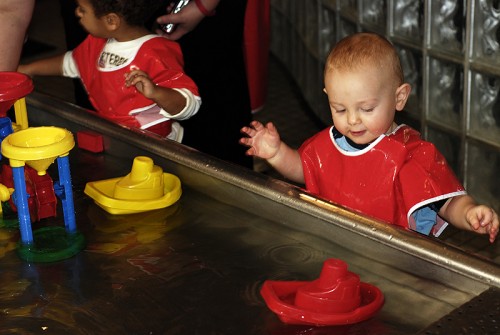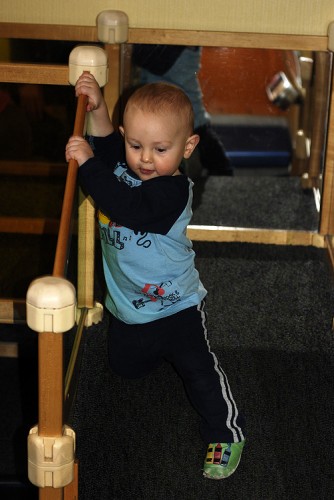 G loved an area where kids play in a long series of water-filled sinks. I was happy to have a change of clothes in his diaper bag. Another spot had a room full of light switches that he could turn on and off. There were exhibits with huge, weird musical instruments that he wanted to explore, and a pioneer-based play area where he spent half an hour finding fake potatoes in the sand and carrying them up to random people.
It was really fun seeing G get out and explore the Magic House, in much the same way I did as a kid. It will be even better when he's old enough to really enjoy most of the activities! Though, after seeing this face, I'm not sure anything could be better than a ball pit and a giant mirror!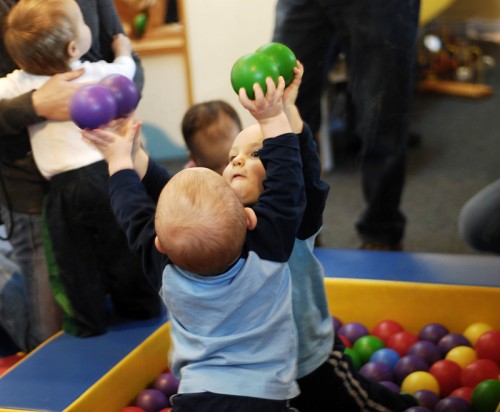 Have you had a chance to share a special place with friends or family this year? I'd love to hear your stories in the comments!